AUGUST 2021: OMNICARE IS CERTIFIED BY THE ACR FOR NMD 3.0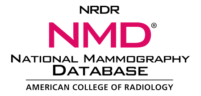 August 2021: Encino, CA: Insight's OmniCare Breast Center Manager has earned the distinction of being certified by the American College of Radiology (ACR) for their National Mammography Database (NMD) V3.0. Being one of a small handful of company's to be certified, Insight Clients can now automatically submit their data to the NMD through the OmniCare system.
This Omnicare NMD certification and data submission offers Clients additional quality measures to help fulfill Merit-based Incentive Payment System (MIPS) reporting requirements. Participation also allows for Maintenance of Certification (MOC) Part IV requirements of the American Board of Radiology (ABR).